The School of Drama is committed to extending the limits of those creative and analytical processes which continually renew the art. 
A 10-hour Roman epic from an award-winning playwright. A human-cyborg Shakesperean wrestling match. A graduating class of passionate, skilled, and diversely-trained theatre professionals. All this in just one year at the University of Washington School of Drama. Each academic year is full of discovering new forms of expression, creative solutions to artistic questions, and rigorous training of the next leading theatre artists. 
For our Back to School campaign, we turning to our closest friends and most dedicated supporters to ask, will you help us continue to grow? Give to any of these three funding areas between before December 10th and help us get start the school year with a bang! 
Supporting Productions and Student Tickets
The most adventurous emerging designers and directors from all over the world come to UW to study with our world-class faculty, and they need the resources to make plays that are worthy of their most aspirational visions. That means funding for state-of-the-art scenic, lighting, sound, and costume design. Moreover, every student at the UW deserves the opportunity to see those shows. Your support for production achieves both of these goals by funding the productions themselves and subsidizing student tickets. Click here to support productions and student tickets. 
"It's that most thrilling time of year, when we get to welcome in a new class of students with their own burning questions and unfettered passions." - Todd London, Executive Director.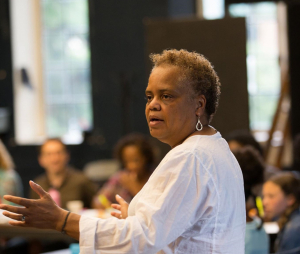 Sustaining Our Creative Laboratory
Research is just as critical in the arts as it is in the sciences. As an arts school within a Research 1 university, we have a unique opportunity to create and hold space for research that advances artistic inquiry and theatrical practice. Your gift of research support ensures that we can continue to build a world-class faculty and support their ever-expanding visions for what theatre can be, while also making UW a place where leading artists from around the globe can come to find the resources they need to test new methodologies and visions in collaboration with our students and faculty.  Click here to donate to Creative Laboratory research. 
 Our School of Drama educations not only gave us the tools to tackle important and deep issues but also instilled in us the  curiosity to want to approach them all." - Ben Phillips, BA '13.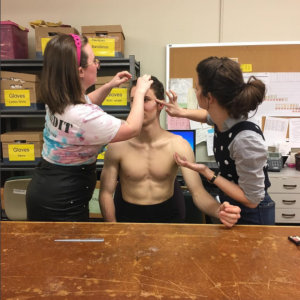 Funding Scholarships and Teaching Assistantships
The next great theatrical mind could come from anywhere. Your gift of graduate student support assures that the most talented, passionate, innovative students can choose to study at the University of Washington School of Drama, whatever their financial situation may be. Our supporters share our commitment to seeking out and nurturing exceptional young artists and scholars who have the capacity to change the world through their artistic and intellectual gifts. You can make sure that they have financial resources they need to focus on their work, both during their time here, and as they enter the professional world. Click here to donate to scholarships and teaching assistantships. 
If you want to give to wherever the funds are needed the most, click here to give to Friends of Drama, our discretionary fund. Please give by December 10th to propel us into more years of artistic growth, excellence, and exploration.
Thank you for being a part of this vibrant and ambitious family.