Located on the lower level of Meany Hall for the Performing Arts on the UW Campus, the Studio Theater is an end-stage theater and seats 250. 
Located on campus in lower Meany Hall. From the brick-paved Central Plaza (Red Square), take the stairs at the NE corner of Meany Hall to the sunken courtyard.  If parking in the Central Plaza Garage, (at 15th Ave. NE & NE 41st St), park on Level C1.
Campus Map for Meany Studio Theater

---
Information for patrons with limited mobility, hearing, and/or vision:
The Meany Studio is wheelchair accessible and can accommodate a limited number of wheelchairs. The only entrance to Meany Studio that does not require stairs is through the Central Parking Garage, Level C1. Wheelchair patrons who are driving should park in the accessible spots on that level. If you are not driving, here is how to get to that entrance:
- Enter Kane Hall (the large, cement building across Red Square from Meany Hall)
- Take the elevator to level C1
- Pass through the parking garage to access the Meany Studio
Here is a map: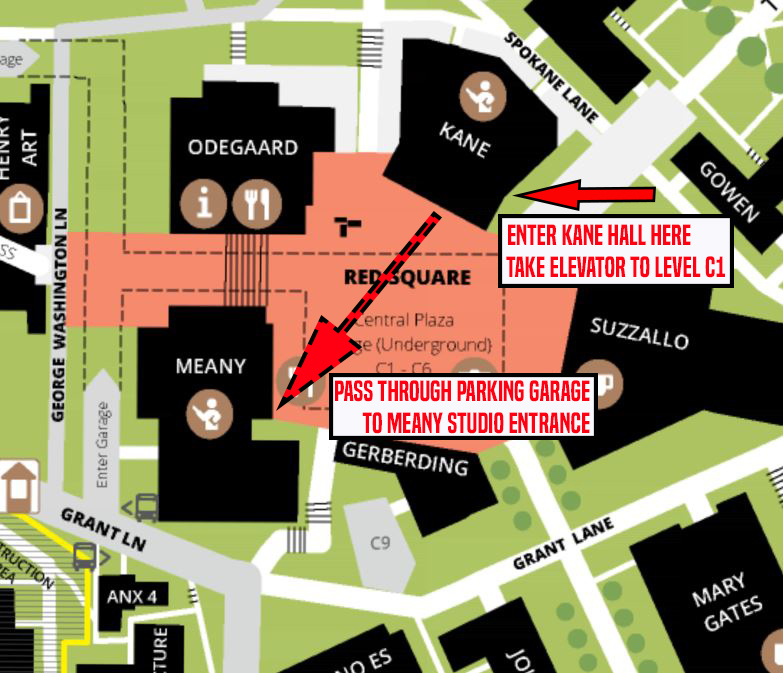 We also hold the entire center section of the front row of the theatre for patrons with limited mobility, hearing, and/or vision. Assistive listening devices are also available upon request. Please check in with an usher or house manager if you would like a listening device.
Although our seating is festival style (unassigned) we are always happy to reserve individual seats in advance for patrons who require seating accommodation. Please call the ArtsUW Ticket Office at 206-543-4880 or email ticket@uw.edu to make any accommodation request.