Submitted by
Holly Arsenault
on May 16, 2018 - 3:59pm
The University of Washington School of Drama announced last month that Executive Director Todd London, who has served in that role since 2014, will step down in August.
Today, the University of Washington College of Arts and Sciences announced the appointment of Lynn M. Thomas as Interim Executive Director, and Geoff Korf as Associate Director.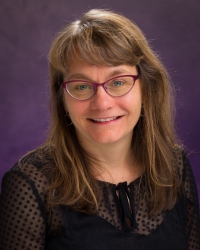 Lynn M. Thomas (pictured, left) is a Professor in the University of Washington Department of History, where she has been a faculty member since 1997, and served as Chair from 2012 – 2015. Highly regarded as both an academic and administrator, Professor Thomas will use her two-year appointment to lead a conversation with Drama faculty, staff, students, and community stakeholders about long-term leadership needs and goals for the school. She is also charged with helping to strengthen the school's administrative infrastructure. "One of the best things about being at a research university," says Thomas, "is encountering the many fields of practice and scholarship contained within it. I have enormous respect for my colleagues in the arts, and, after twenty years as a faculty member in History, I'm eager to learn more about Drama and to help faculty, staff, and students plan for the future."
Geoff Korf (pictured, below) will be appointed Associate Director of the School of Drama. Professor Korf, who teaches lighting design, joined the UW Drama faculty in 2002, and served as Head of Design from 2004 until 2017. Professor Korf will lead the school's production activities, which include presenting a six-show main stage season in three spaces on the UW-Seattle campus, as well as numerous smaller productions throughout the year. Professor Korf was recently appointed to the Floyd and Delores Jones Endowed Professorship in the Arts. "Todd London and the late Sarah Nash Gates are both leaders who have inspired me and brought so much good to this school and our students," says Professor Korf. "I look forward to working with Professor Thomas to carry their legacy forward, and to continue to improve how we train the theatre scholars and artists of the future."
"I am thrilled that these two extraordinarily gifted leaders, Professors Thomas and Korf, have stepped forward to provide leadership for the School of Drama during this time of transition and transformation," says Catherine M. Cole, Divisional Dean of the Arts. "Now is a great opportunity for the School of Drama to reevaluate and build strength for the future, especially as the arts on campus are currently developing a comprehensive vision and more forthright presence and engagement with the entire campus."
Todd London, who came to the UW following an 18-season tenure as Artistic Director at New York's New Dramatists, will return to New York City where he where he will be taking on a handful of projects in support of theater education, artistic equity, and creative exchange.
Professor London shared these thoughts about the incoming leadership team: "Professor Thomas, according to the faculty in History, had an extraordinary tenure there as chair. She brings a deep knowledge of higher education and of the practices and standards of an R1 [highest research activities] university.
"Professor Korf, who brilliantly led our Design area for many years and who has this season been serving in a new role as Faculty Liaison to Production, has a singular ability to toggle between the details of curriculum, production, and policy, and the broader mission of the School and its stages. Professor Korf will also bring a deep knowledge of the history and culture of the School of Drama.
"I am delighted to hand over the reins of The School of Drama to these two impressive leaders, and excited to see what they will accomplish."
Professors Thomas and Korf will both begin their formal appointments in July, and those appointments will last through June 2020.
MORE ABOUT LYNN M. THOMAS
A member of UW faculty since 1997, Lynn Thomas is an experienced administrator and campus leader, having previously served as Chair of the Department of History. She has also served on the faculty board for the Simpson Center for the Humanities, on the Royalty Research Fund selection committee, and on several departmental review and chair search committees. Nationally, Thomas has served as a co-editor of the Journal of African History, and on fellowship selection committees for the National Endowment for the Humanities, Social Science Research Council, and National Center for the Humanities. Thomas's research is focused on gender, women, and sexuality studies in Africa.
MORE ABOUT GEOFF KORF
Geoff Korf joined the UW faculty in 2002. Professor Korf received an MFA from the Yale School of Drama, and has taught at California Institute of the Arts, Southern California Institute of Architecture, and the University of Michigan. Korf has been designing lighting for more than thirty years and has designed for many prominent theatres throughout the U.S.A. including on Broadway, at the Oregon Shakespeare Festival, Seattle Rep, The Guthrie Theatre, The Goodman Theatre, Berkeley Repertory, San Francisco Opera, The Old Globe, La Jolla Playhouse, and the Mark Taper Forum. Korf has been a member of the Ensemble of Cornerstone Theater in Los Angeles since 1996. Korf has also designed lighting for a number of museums including the Huntington Library's main exhibit of rare books.