Submitted by
Holly Arsenault
on June 5, 2018 - 11:04am
From now until the end of the school year, we will be introducing and celebrating our graduating students, looking back on the work they've done during their time here, and sharing their reflections and wisdom as they head off into the professional world. Today, we meet graduating MFA costume designer Emily Woods Hogue! You can see some of Emily's work from her time here at UW in the slideshow above.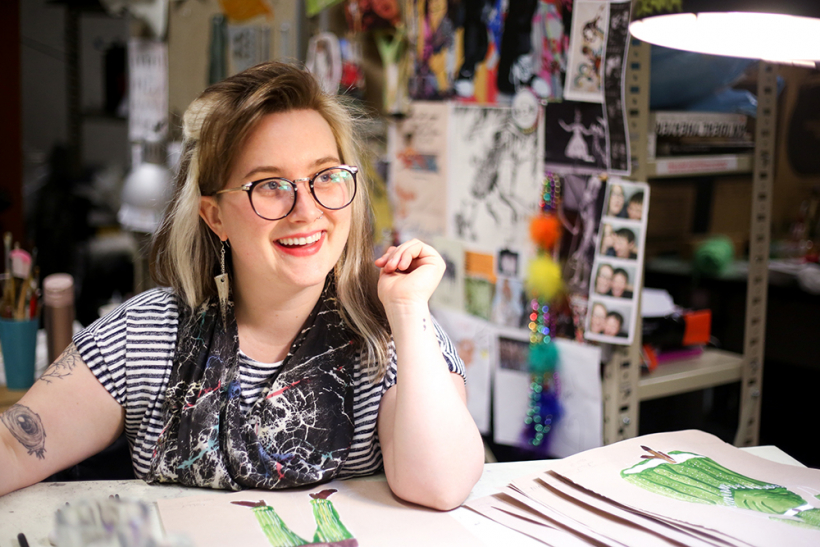 What do you know now that you didn't know when you started this program?
One of the things that I came to grad school for was definitely to become a better renderer, like to be able to draw better, 'cause when Deb [Trout, Head of Design] saw my work at URTA they were like blimpy stick figures, and they certainly aren't now, which is pretty dope and I'm very proud of it. But, also, I feel like so much has been poured into my brain in the past three years that I need another three years, outside, living my life, to fully distill all of it. You don't [always] know you're learning until you're faced with the same decision again and you make it differently. Like, I know that I'm still gonna hear Val Mayse's voice and Deb Trout's voice in the back of my head for the rest of my life. It's really great to know that I have three years of gems from these people that I respect so much that are stuck in there somewhere, and I'll trip over 'em later. I've had several hives of bees in my brain for the past three years, and once I get that paper it's time to kinda just let 'em fly around and see what happens. I'm actually super excited for that. Like super excited for that. 
What are you looking forward to being able to do now that you won't be in class or studio or rehearsal 12 hours a day?
I think twelve hours is really f**king generous. Eighteen. Eighteen at the very least. I am really excited to have maybe a normal sleep schedule? I'm excited to exercise regularly and feel like I have the time to exercise regularly. I'm not great at carving time out for activities like that, because I know there's always—especially in this land of twelve deadlines a day—there's always something that I can be doing to achieve this paper. I'm also excited, I know this is terrible, but I'm so excited to go back, even for just the littlest while, to retail, and to just, like, roll in stacks of money and pay off my credit card and be the fiscally responsible Capricorn moon sign that I am. I'm excited to be able to be fiscally responsible again. My eighteen year-old self is screaming at me, "WHAT?! That is so not punk rock!" But it's true. It's really true.
Any plans for after graduation? 
I am working a new play at a Seattle theatre this June and July [design team not yet announced], and I'm also working on The Who's Tommy with the Gilbert and Sullivan Society of Seattle, which is one of my, like, high listed things to do. It's a show that I've wanted to do since I was eighteen. So, it's super exciting. And I—fun fact—don't have my driver's license. So that's a thing that I'm gonna be concentrating on this summer as well. 
Do you have a favorite memory from your time here? 
I have a lot. My colleagues are some really dynamic, funny, caring individuals.
The first is, we were out on museum week, which is a thing that they do so that we don't all kill ourselves in February, and [fellow MFA design student] Matt Webb, we were at the sculpture garden and he disappeared, and we were like "Where's Matt?", and I ran down by the water to try and find him, and I find him, and he just goes, "There's a f**king seal over there! There's a f**king seal!" And this was our first year so I had been in class with him for like six months, and he was just so laid back, cool as a cucumber, and seeing him flip out over this tiny baby seal...  And all of us came over, "Guys it's a seal! It's a f**king seal!" Y'know. They don't let us out much.
And then, right now in live in what's called The Wedgewood Drama house. I guess some of us call it that because it's, like, a conglomeration of people in the Drama department and our significant others. And it's actually really nice to go home and flop down on the couch and just watch whatever dumb thing is on television and be an outside-of-school human with the humans that I'm inside of school with all the time. Living with people I actually love is really solid.
And the last one is when I was working on a UW show, and we were working up to one of the actors' nude scenes, and I was in the bathroom, and that actor and another actor came in, and they didn't know I was in the bathroom, and the actor was expressing that she was a little nervous, and the other actor just goes, "Yeah, no. Emily will take care of you. She's got that ass." And I'm like, "That's how you talk about me when I'm not here?!" But it was also so cool to realize that my colleagues and my actors are comfortable with me, because I'm comfortable with myself. I loved knowing that they felt like I could take care of them, and that their fear would be assuaged and not take over—that they could still do that, and I'd be there with them.
I think the most  important thing that I've learned is that costume design is something you do with people, not to them. And if you're doing it to them, you're doing it wrong. And I know that I do have the power to make people comfortable, and that's important to me.
What advice do you have to people who might follow in your footsteps?
Hydration. Especially if you're drinking that much coffee. Know your vices. Don't have any stupid ones. Also, May [when this interview was done] is mental health awareness month, so be f**king aware of yours and others', but especially yours. There's something, y'know, you've signed up for a three year program that is designed to, not necessarily break you, but break you of bad habits, and to make you think of yourself in a different way, and that's sticky and sometimes that really hurts, and sometimes you come at it from a point of relearning who you are, and there's no reason you need to do that alone. There's no reason to do that alone. I'm a huge advocate for therapy, and a huge advocate for getting out of your own head. Therapy's been a very big important part of my journey here. Like, I thought I was mentally unwell before? LOLOLOLOLOLOLOLOL. But yeah, three years of questioning every f**king thing you do makes you need some therapy. And that's fine. The most important part of that is that that's FINE. So, yeah. Drink water. Get a therapist. Eat green things. And you're gonna meet people you love, and you're gonna meet people you have to work a little harder to love. And that's life. But also, you're gonna be around all the time for three years, so, like I said. Therapy. Water. Therapy. Water. Rinse. Repeat.
---
---
Our MFA designers are showing their work this weekend at Design Showcase West in Los Angeles, and on Monday, June 11th at the Seattle Design Showcase. If you are a local theatre, film, or event production professional who would an invitation to attend the Seattle Design Showcase, please contact Bobbin Ramsey at aramsey2@uw.edu.