Submitted by
Holly Arsenault
on March 11, 2019 - 11:30am
From now until the end of the school year, we will be introducing and celebrating our graduating students, looking back on the work they've done during their time here, and sharing their reflections and wisdom as they head off into the professional world.  Today we are delighted to introduce graduating MFA scenic designer Wenzheng (Wen) Zhang. Scroll through the slideshow to see some examples of Wen's work during his time here at UW!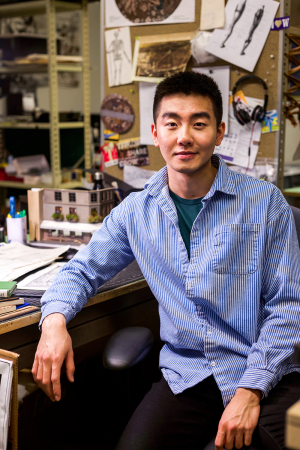 What do you know now that you didn't know when you started this program? Three years is incredibly short! Looking back on what I achieved in this time, I know I have the ability to be a theatre artist, which I've desired since I was in high school. Before I came here, I had limited knowledge of the process of making a production. Therefore, overcoming the biggest learning curve is most valuable thing I got from this program. 
I've also met lots of people from different areas who impacted me hugely. I had a wonderful time working and studying with my professors, scene shop and costume shop people, classmates, actors and stage crews. All their professional attitudes and positive energy supported me through my time here.
When I made my decision to apply to get my degree at UW, I did not know what I would be after I graduate. Now I know that I have a really clear goal for my future.
What are you most looking forward to being able to do now that you won't be in class or studio or rehearsal 12 hours/day? Enjoy the time without the pressure of deadlines! I want to spend some time and travel around to give myself a few breaks, then find a good point to balance my current life. Also, I am preparing for the upcoming designer showcase in both NY, LA, and Seattle.
Any plans for after graduation? I have not yet made the decision. Mostly it will depend on how the showcase goes, then I probably move to wherever the job takes me and start to build my career.
Do you have a favorite memory from your time here? It has to be my first year when I showed my model for Antigone, and Tom [Lynch] asked if I had seen my model under the lights, and then he lit my model with some colors. When I saw the magic happen, I was totally shocked and said "Wow". Everyone laughed, and Skip [Mercier] said "I think he didn't." After that I learned always judge the work under the theatrical lights.
What piece of advice do you have for those following in your footsteps? I want to say to them just trust yourself and you are absolutely capable of doing what you want. It would be easier for them to set a few small goals, then to finish them. Last and also the most important is: do not stick in the past, do not spend too much time thinking about something that already happened. Always look forward. Isn't that what life is?
[Portrait by Kyler Martin]
---
Our graduating designers will participate in the National Design Portfolio Review in New York City on May 29, 2019, Design Showcase West in Los Angeles on June 2, 2019, the Seattle Design Showcase on Monday, June 10, 2019. For more information or to request an invitation to any of these events, please contact Bobbin Ramsey at aramsey2@uw.edu.