Submitted by
Holly Arsenault
on April 17, 2019 - 12:04pm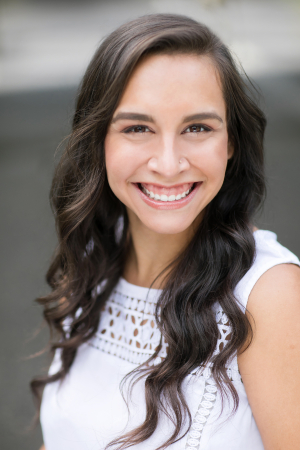 From now until the end of the school year, we will be introducing and celebrating our graduating students, looking back on the work they've done during their time here, and sharing their reflections and wisdom as they head off into the professional world. Today our series continues with graduating MFA actor Tricia Castañeda-Gonzales.
What do you know now that you didn't know when you started this program? That I'm capable. That I possess similar qualities to the people that I have been learning from. There are so many fabulous artists who I admire for so many different reasons: their strength and their command of the text, their presence and fullness on stage, and their willingness to play and to go from zero to ten in a heartbeat without questioning themselves. I think that I've learned how to do that. I don't necessarily think I was capable of doing that, or willing [before]. I just have much more confidence in myself and in my craft than I did when I first started, which is all that anyone can hope for.
What are you looking forward to being able to do now that you won't be in class or rehearsal for 12 hours every day? Oooh. I think we've been given so many different skills, to be able to home in on one specific project is going to be a huge gift. [Here] we have our hands full—we're dabbling in so many different things at the same time. So, it's going to be nice to be able to take on one thing and put all of my time and effort into that one thing, while also knowing that I can still take on more projects. Now that I have taken this on, I feel like I know that I can juggle a few projects at the same time.
You have a better sense of your own capacity. Right. 
Any plans for after graduation that you can share? We have decided to move to Los Angeles. Going to live that LA life. I thought we would stay here, because like I said there are so many different wonderful people who we would love to continue to learn from, so it's a little sad deciding to go elsewhere. But it feels like the right decision. We spent three years in this program, putting all of our effort into bettering ourselves and our craft, so I feel like it makes the most sense to throw caution to the wind and jump on in.
Would you like people to know to whom you're referring when you say "we"? [Fellow PATP] Phillip [Ray Guevera] and I!
Do you have any other plans for after graduation? Oh my gosh! So, we graduate, and then we get married, and then we're moving to Los Angeles!
Do you have a favorite memory from your time here? I honestly think this last Viewpoints that we had as a class was beautiful and overwhelming and exciting. We've just learned so much from each other and from our professors, and everything kind of seemed to culminate in this beautiful Viewpoint. I don't think I would want to change anything about it. It's something that I will remember and cherish forever.
This is something that just happened like this week? Yeah. It's gonna make me cry, but it was so... it was hard and scary and wonderful. I love my classmates. And it was the perfect way to go out.
What advice do you have for someone following in your footsteps? Dive in. Know that you're here for a reason, that you're worthy, that you're capable. And that you're here to learn and grow. So, even though the growing pains may seem difficult at times, it is 100% worth it.