Submitted by
Holly Arsenault
on May 4, 2018 - 1:52pm
From now until the end of the school year, we will be introducing and celebrating our graduating students, looking back on the work they've done during their time here, and sharing their reflections and wisdom as they head off into the professional world. Today, we meet graduating MFA costume designer Pamela Weinzatl! You can see some of Pamela's work from her time here at UW in the slideshow above.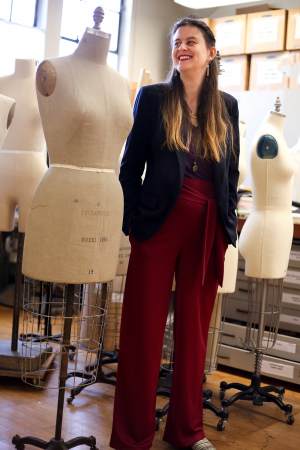 What do you know now that you didn't know when you started this program?
How to play well with others. Collaboration was definitely the hugest milestone for me. I came into the program with a ton of social anxiety, and an inability to express myself in a way that there wasn't an internal panic attack going on. So, something that this program has done for me is shove me in front of rooms full of people over and over and over again. Still not perfect at it, but at least now I can collaborate in a way that makes sense.
What are you looking forward to being able to do now that you won't be in class or studio or rehearsal 12 hours a day?
Work! The hope would now be to go work and get paid, and professionally have those 12- and 16-hour days. I do plan to do some "me time." I definitely want to do a nice long hike in the woods, anywhere from a week to a month if I can swing it, and definintely detox and enjoy stuff, but definitely work. Work work.
Any plans for after graduation? 
I'm gonna go where the work is, absolutely. I'm currently in talks with a couple of jobs, with the potential to stay [in Seattle]. If for some strange reason those don't pan out, I would like to go to Atlanta to work in TV or film, like, wardrobe supervising or something like that. But if I could stay in Seattle and design that would be spectacular.
Do you have a favorite memory from your time here? 
I do. It's a weird one. It kinda harkens back to what I was saying before about all the social anxiety, because I'm very much an introvert. There's a classroom downstairs--150. It's a super teeny tiny classroom. And I remember first year just being so overwhelmed, and in the middle of a panic attack, and what I would do is I would actually go into that room, lie down on the floor underneath the tables with all of the lights out, and I would just close my eyes and I would breathe. And it was just these tiny little moments where I could get away and remind myself, "You know what, you're not gonna die, even though everything in your endocrine system is lying to you." So, yeah, 150 is special.
What advice do you have to people who might follow in your footsteps?
Self care. Absolutely. Get in touch with the self care. I could write an entire blog series on all of the self-care things that I have found. You have to give yourself 20 minutes a day, no matter what, to care for yourself. And that can be anything. When I was in New York, I realized it was having a particular scented candle that I could just light for 20 minutes at the end of the day. Epsom salts in bath water. Absolutely. There have been times when I have taken 20 minutes just to walk out of the building, and sometimes it's just circling the building for 20 minutes and not even going anywhere else. You have to self care. You have to.
---
You have three more chances to see Pamela's thesis production, Angels in America Part II: Perestroika, which closes Sunday, May 6th. Click here to learn more.