Submitted by
Katrina M Ernst
on June 16, 2014 - 12:43pm
Leah Adcock-Starr is a rising third-year graduate student in the MFA Directing program at the University of Washington School of Drama. Her main stage directing credits for UW Drama include the recent production of The Arabian Nights. For her thesis project, Leah will be staging William Shakespeare's Twelfth Night. We previously had the wonderful opportunity to chat with Leah about her background and why she has chosen a career as a theatre maker. You can read that interview over here. Now Leah is sharing with us her reflections on a recent trip across the pond.
Pourquoi Shakespeare?
by Leah Adcock-Starr
Last month I went to a birthday party in Paris.
Close to four hundred thinkers, writers, teachers, talkers, and theatre makers gathered from all over the world (I heard a rumor that over 60 countries were represented) for a celebration that would last an entire week.
And the birthday boy at the crux and heart of all this hullabaloo? The face that was plastered on our conference programs and on all the swag you could pick up at registration? The great big 'why' we all clustered together in the theatres, classrooms, halls, and streets of Paris?
William Shakespeare.
Day One: I find myself sitting slightly stunned in the Theatre Odeon with a few hundred other people. A white haired, French poet-genius-academic (who I think might have got this gig because of the remarkable resemblance he bears to the bard) is speaking from a small podium center stage.  Behind him is a giant banner emblazoned top to bottom with a pop art graphic of William Shakespeare wearing sunglasses. The words "Shakespeare 450″ appear in large, orange script and in the upper right corner sits the official emblem and seal of the illustrious Societe Francaise Shakespeare.
From all over the world, we had gathered with our shared obsession. Now, on the first day and inaugural session of this week long birthday party masquerading as a conference masquerading as a birthday party, we sat in a room and contemplated the question the white haired man onstage was asking of us:
"Pourquoi Shakespeare?"
For those of you whose grasp of the French language is similar to my own (and is therefore largely dessert oriented) that translates to "Why Shakespeare?"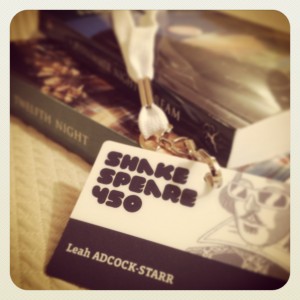 Why Shakespeare? The eternal question. A valid and important (if not essential) question to ask of a room full of self-identified 'Shakespeareans.' An easy question, or an impossible one. A question so oft asked and so oft answered that one wonders if any one answer (or any one blog post) might suffice. I think it would be remiss not to acknowledge now and honor the fact that there are among us intelligent and articulate theatre makers who can and will provide significant, even compelling, reasons why not to do Shakespeare. But I'm not one of them. I'm the girl who unapologetically participated in a workshop on Contemporary and Original Performance Practices in which a passionate multilingual argument regarding the power of iambic pentameter in performance broke out between a French poet, a pair of Italian actors, an English drama teacher, and a Spanish linguist.
My paper 'BFF's and the Bard: The importance of Female Friendship in A Midsummer Night's Dream' got me my ticket to what I think might have been the most rewarding and affirming gathering of experts on a subject that so many in our profession take for granted. Too many actors, designers, and directors see Shakespeare at best as a convenient fallback for a rights-free show popular enough to sell some tickets – a necessary theatrical evil. In Paris this past week, Shakespeare was essential.
I heard a German historian discuss the ways in which the figure of Hamlet created a unifying symbol in a post Great War Europe, as nations found they could identify with Shakespeare's melancholy prince, skull in hand, staring in horror at the ravaged kingdom before him and wondering what the path forward might be.
A scholar from Japan spoke to me about how her personal experience in the midst of the Fukushima nuclear emergency of 2011 led her to write a book about how she found an argument for more deliberate pursuit of alternative energy sources in the sun soaked metaphors of Romeo and Juliet.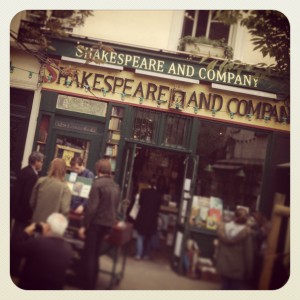 Do we really need to continue to ask ourselves 'Why Shakespeare?' As it turns out, no one scholar is going to have the answer to such an intensely personal question. They have many. If anything, Paris proved for me that the words themselves are not the answer. They are the key. For me it is all about what these words can do. From the moment they were first conjured into being; these words were intended to move, provoke, stun, entertain, delight, challenge, incite, inspire and ignite. They brought hundreds of people together from across a globe larger than one even Shakespeare could have imagined. And from all the corners of the world, in all the languages I heard, the words continue to illuminate the human condition.
On my own panel, 'Shakespeare and Global Girlhood,' I worked to show how, with thoughtful and articulate production choices, this loaded canon of work can reflect and add value to the real world relationships of the women in our audience and on our stage. Over and over that week I heard "Wow. So you're actually doing this? You're doing these plays. Right now."
And that's why I'm back, hiding behind the stacks of anthologies, quartos and folios, and Bard biographies piled high on my desk, why I'm lost in the lines of Shakespeare's greatest comedy, and why I'll continue to do what I do as a director who unabashedly loves Shakespeare.
The conversation, the debate, the writing, the reading – the dialogue with really smart people and the asking of really big questions – all of this primes me for the moment that matters.  The moment I am preparing for now. The moment when the actor takes the stage and begins to speak the speech, and the sparks start to fly. The moment when theory and practice meet in the crucible of the rehearsal room and performance space and a live audience experiences magic. The moment when the words ignite and anything can happen. The doing.
Mark your calendars now and be part of the audience to experience Leah's magical moment. Twelfth Night runs January 28 – February 8, 2015.