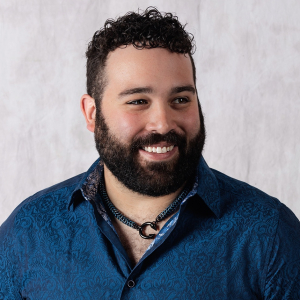 Biography
B.A., Theater - Performance, Whitworth University, 2012
B.A., Theater - Community Based Theater, Whitworth University, 2012
B.A., English - Literature, Whitworth University, 2012
M.A., Educational Theater - Applied Theater & Youth Production, New York University- Steinhardt, 2015
Andrew Coopman is a storyteller who wears many hats.
.
A director, a choreographer, a devising theater artist, a teaching artist, a playwright, a believer in the transformative power of intentional community focused storytelling. 
.
Andrew  started their theater career as an actor in the 7th grade in Wheaton, Illinois. It wasn't long after that that they started assistant directing, and the rest is history. Andrew passionately pursued every opportunity to learn more about directing. From studying Community Based Theater & Performance at Whitworth University to touring for 3 years domestically & internationally with Missoula Children's Theater to getting his first Masters degree in Educational Theater from New York University-Steinhardt, Andrew was always looking for an opportunity to refine & define his skills as a director. Fun Fact! He actually applied to this MFA in Directing Program for the first time in 2012, but everything happens when it's meant to, and even though it's not what he imagined, his resilience and the mentorship of the UW Faculty has helped him grow immensely on this journey. Andrew calls Seattle his home now after moving 30 times throughout his life, along with his husband, Jamey, and their dog, Hygge. They would like to thank their friends and family for their love & support, and his mentors who have truly helped him discover his voice as a storyteller.
AndrewCoopman.com
.
Coming soon, Andrew's devised show RE: Social/Divide will be produced through Cooperative Performance in Milwaukee, WI via Zoom, which will be followed by his thesis: an online production of Henrik Ibsen's Rosmersholm in May.
.
Previous Highlight Directing Credits include: Love & Information, Body Awareness, FROZEN: A Play, As Is, and Savage Conversations (UW), Wilde Tales (Seattle Opera), Into the Woods and Mary Zimmerman's The Odyssey (Studio East), James & The Giant Peach (Village Theater), Little Women (SMT), Disney's Beauty & The Beast (EDP), and the premier of John Ruoff's The Sunflower Sisters (Eclectic). 
.