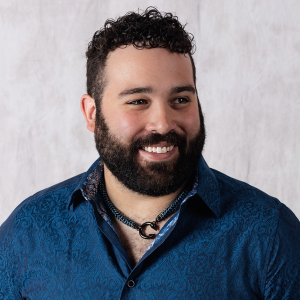 Biography
B.A., Theater - Performance, Whitworth University, 2012
B.A., Theater - Community Based Theater, Whitworth University, 2012
M.A., Educational Theater - Applied Theater & Youth Production, New York University- Steinhardt, 2015
Andrew Coopman is an artist who wears many hats.
He is a Seattle based Director & Choreographer, and is currently in his final year of the MFA in Directing program at University of Washington School of Drama. He has worked at theaters in Seattle like Village Theater, Seattle Opera, Seattle Musical Theater, The Eclectic Theater, Studio East, Edmond's Driftwood Players, Snoqualmie Falls Forest Theater, & Kitsap Forest Theater, and done directorial observations at 5th Avenue Theater, Village Theater, Theater22, Seattle Public, and University of Washington. 
Additionally, after touring with Missoula Children's Theater (2012-2014) and getting an MA in Educational Theater from New York University - Steinhardt, he continues to work as a Teaching Artist in the Seattle area with Seattle Opera, Village Theater, The University of Washington, Green River College, Edmond's Driftwood Players, Seattle Children's Theater, and Studio East, where he also served as the Teaching Artist Training Specialist. In 2019, Andrew participated as a Leading Producer with The Scratch - Seattle Workshop Series where he co-facilitated and co-created the Playwriting from Scratch Program and directed 2 original play readings by the early career playwrights.
Coming soon, Andrew will direct Caryl Churchill's Love & Information this fall with the UW School of Drama on Zoom followed by his Thesis: The Seattle premier of Henrik Ibsen's Rosmersholm, opening in May. Previous Highlight Directing Credits include: Body Awareness, FROZEN: A Play, As Is, and Savage Conversations (UW), Wilde Tales (Seattle Opera), Into the Woods and Mary Zimmerman's The Odyssey (Studio East), James & The Giant Peach (Village Theater), Little Women the Musical (SMT), Disney's Beauty & The Beast (EDP), and the premier of John Ruoff's The Sunflower Sisters (Eclectic). Choreography Credits include Once on this Island (Studio East) and In the Heights (Village Theater).