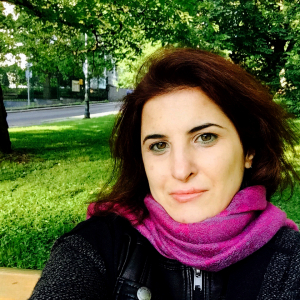 Contact Information
Office Hours:
Wednesday-Friday 1:30-2:30 pm|( email to confirm appointment)
Biography
Honors, Diploma of Higher Studies, Theatre, Lebanese University - Beirut, 2001
Honors, Masters Degree, Cultural Mediation, Lebanese University- Beirut , 2018
Mona Merhi is a doctoral student at UW. She has a multi-layered path juggling  her career as a writer, researcher, TV producer, theatre maker and a cultural manager, and most of all as an activist engaged in the process of social transformation.  
In 2009, Mona founded Sahbeh Readership Initiative, a cultural non-profit initiative aiming at creating the love and need of reading books among various grassroots communities. Mona was awarded theAshoka fellowship for social entrepreneurs in 2012 for Sahbeh Project.
In 2013, she organized "Arts in Times of Crisis", a long day featuring an alternative networking encounter and  two round tables seeking to question the position of Arts within the turmoil of the region and a concert.
One of the most eye-opening and enriching theatre experience she had was her work as a writer, researcher, actress, on the cause of the disappeared of civil war in Lebanon. "That specific moment", a performance based on documented narratives of kidnapped individuals and on some governmental documents, toured for two years within local community premises to re-engage different generations in this unresolved cause.
Mona has been a theatre critic in many local and regional newspapers in the Arab world since 2014 and has published many theatre reviews. In addition to her regular articles about the theatrical local scene, she was involved in many research projects related to different cultural practices in the Arab world.