Submitted by
Holly Arsenault
on November 4, 2019 - 10:42am
The University of Washington School of Drama, under the leadership of Interim Executive Director Lynn Thomas and Interim Associate Director Geoff Korf, is announcing several new faculty and staff appointments.

Associate Professor Jeffrey Fracé will take over from Tim Bond as Head of Acting. Bond will continue to teach acting and directing to graduate and undergraduate students, and will direct this spring's all-school production, Cabaret. 
Fracé (pictured, left) is a veteran theater artist with more than 100 professional credits in the past 25 years as either an actor, director, writer, or producer. He is a former Associate Artist of Anne Bogart's SITI Company, performing, touring, and teaching with the company for over 10 years. He holds an MFA in acting from Columbia University, and has taught acting, directing, movement, and devising since 2008. He is currently directing our upcoming production of Chekhov's Three Sisters.
"I'm thrilled to be working alongside a faculty of master teachers and accomplished professional artists, and with a cohort of courageous and dedicated students. I'm excited to build on the great work Tim Bond has done to refine and strengthen an innovative, rigorous course of training for actors that is grounded in tradition and deep practice, and yet pointed towards the unknown, the undiscovered, and the impossible," says Fracé.
Playwrights Trista Baldwin and Elizabeth Heffron will join the school as guest instructors this year, with Baldwin teaching Beginning Playwriting and Heffron teaching Documentary Theatre.
Baldwin (pictured, left) is the award-winning author of over twenty plays. Her work has been produced Off-Broadway and throughout the U.S., as well as in Australia, Chile, and Japan. A native of the PNW, she recently returned to Seattle after living in New York City and Minneapolis, where she was a tenured professor of dramatic writing at St. Cloud State University.
"Writing is a muscle, connected to our hearts, minds, and guts," says Baldwin. "My role is to help students identify where that writing muscle lives, show them how to exercise it, and give them tools to connect this muscle to their desire."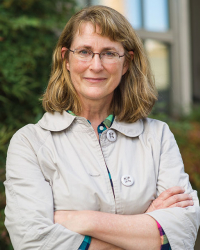 Heffron (pictured, right) is a Seattle-based playwright and the recipient of the Edgarton New Play Award and the Holland New Voices Playwright Award. Her plays have been produced at Seattle Repertory Theatre, ACT Theatre, and numerous others, as well as across the U.S. She has taught playwriting at Cornish College of the Arts, ACT Theatre's Young Playwrights Program, and Freehold Theatre/Lab.
On the staff side, MuTTT (pictured, left, with Pee-wee Herman) has joined the school as resident sound technician. MuTTT is transitioning into academia after a career in New York and regional theatre that has included designing sound for numerous Broadway and Off-Broadway productions, including Oh, Hello on Broadway, The Open House (Drama Desk
Award), Here Lies Love (Lucille Lortel Award), Straight White Men, God Said This, and The Pee-wee Herman Show. MuTTT is excited to use the knowledge and skills he's acquired as a designer and sound technician to support and guide our students.
Caroline Rensel has joined the school as the new Constituent Relations Officer, helping to support the school's fundraising and outreach efforts. Rensel is a working actor, teaching artist, and arts administrator. She came to UW from TeenTix, an arts access and youth development organization, where she served as Director of Development for three years.
Finally, Tina Swenson has joined the School of Drama as the department's administrator. Swenson holds a BA in Swedish from the University of Washington. She previously served as the department administrator for Scandinavian Studies and is an avid practitioner of Taekwon-do.