The School of Drama believes in fostering each student's awareness of their unique voice as an artist and citizen.
Each year, the School of Drama welcomes a diverse new group of artists, thinkers, and storytellers into our classrooms. As we join each student in their creative journey, we see tremendous variety in their experiences, beliefs, values, and goals. We take pride in helping them to hone their theatrical and creative-thinking skills, and in exposing them to the full range of artistic and scholarly opportunities available to them at UW.
We, the faculty of the School of Drama, believe that the ultimate destination of this journey is for each student to discover their unique perspective as an artist and a citizen. We provide them with our best knowledge and tools, but rely on them to connect those tools to their own brilliant vision for the world.
"My time at the School of Drama has fundamentally altered the way I consider how theatre interacts with the social and political worlds" - Hannah Probst, BA '19
We know that you, our closest friends and supporters, believe in the power, vitality, and value of theatre. We all understand that storytelling is essential to creating a more empathetic and curious society. This is why we pride ourselves on making room for each individual voice, and strive to provide whatever resources are necessary to support our students' growth into artists of craft, courage, and character.
At the heart of this growth is our supporters, the people who believe as strongly as we do in the power of theatre, and who seek to encourage our students in their discovery of themselves and their relationship to the world. You are essential partners in the work of the School of Drama, and we are so grateful for your commitment to our students.
Please give to the Friends of Drama fund this fall, and continue the great work of nurturing our students through one of the most exciting and important times of their lives.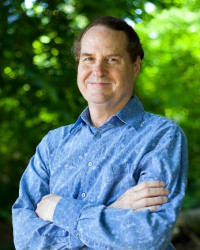 Sincerely,
Geoff Korf
Associate Director for the School of Drama
P.S. Your gift to Friends of Drama today will be put to use immediately, supporting student work both on the School of Drama mainstage and in class. Thank you!