Saturday, May 18, 2019 - 1:00pm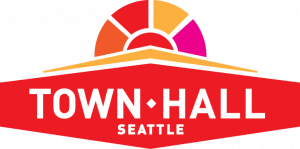 Town Hall Seattle, Meany Center for the Arts, and UW School of Drama present
Meiyin Wang
This Is How It Ends
How can the arts inform new directions for emerging technologies? From the curatorial mind of producer and director Meiyin Wang comes a collaborative exploration of the intersection of technology and the arts: This Is How It Ends. Through a series of performances and panel discussions, Wang introduces us to artists and technologists who are conceiving of ways the arts can disrupt, inform, and influence emerging technologies. Hear from musicians, theatrical directors, and filmmakers, as well as digital artists, game designers, and experts from all walks of art and tech, all united to explore the ways technology can be impacted by the concerts of art: language, space, corporeality, materiality, time, emotion, and inclusivity. Join us for an idiosyncratic combination of panel discussions, lectures, demonstrations and performances that ruminates on the future/s of performance and technology.
Speakers include:
Janani Balasubramaniam (Writer, game designer, and immersive theater maker)
James Coupe (Associate Professor, UW Center for Digital Arts and Experimental Media )
Thomas Duele (Neurobiologist and Acting Assistant Professor, UW Center for Digital Arts and Experimental Media)
Andrew Kircher (Director of Devised Theater Initiative, The Public Theater)
Dafina Toussainté McMillan (Co-founder, Crux)
Ahamefule J. Oluo (Musician, Stand-up Comedian, Film-maker)
Meiyin Wang (Curator, Producer, Director)
---
Meiyin Wang is a University of Washington Mellon Creative Fellow. During her residency at UW, Wang will be investigating notions of space that have been cracked open by developments in virtual, augmented and mixed reality, and the role that live art plays within this new vocabulary. Learn more about Meiyin Wang on the Mellon Creative Fellows website.