Friday, January 15, 2021 -

2:00pm

to

4:00pm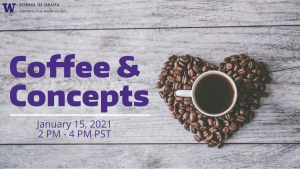 The Coffee and Concepts Series begins the new year with a talk by Hallie Marshall, a theatre and classics scholar from the University of British Columbia. Her talk, "Is Euripides Dead?" takes inspiration from T. S. Eliot's essay "Euripides and Professor Murray", a scathing attack on Gilbert Murray's translations of ancient Greek tragedy. At the time Eliot was a relatively unknown poet working in a bank, while Murray was the Regius Professor of Greek at Oxford and had a significant public profile as a translator and political activist. This talk explores the extent to which Eliot's essay has come to shape Murray's posthumous reputation, but also poses questions about how scholars read decades-old criticism across the shifting tides of individual reputations and the larger cultural and socio-political context.
Hallie Marshall, BA (Queen's University), MA (Memorial University), PhD (UBC), specializes in dramatic literature and theatre history, with a particular focus on ancient Greek theatre and its reception (reuse) in later periods. Her doctoral dissertation was on the classical plays of British poet Tony Harrison. She has published on Aristophanes, Tony Harrison, Ted Hughes, Sarah Kane, and the performance of ancient Greek theatre in Canada. Her current projects include a comparative study of the ancient City Dionysia and the contemporary Cook Islands' festival Te Maeva Nui. She has recently completed a short film of the "Ode to Man" from Sophocles' Antigone with her 2018 Go Global students and the UK-based company Barefaced Greek. They are currently collaborating on another SSHRC-funded film—the Dawn chorus from Euripides' fragmentary tragedy Phaethon—to be filmed as part of the Go Global 2021 summer program. **This bio was taken from the University of British Columbia**
---
The Coffee and Concepts Series considers research about performance, broadly defined.  This free event is produced in partnership with the UW Center for Performance Studies. If you have questions about this series, please contact Stefka Mihaylova, Director of the Center for Performance Studies, at stefkam@uw.edu.