Submitted by
Holly Arsenault
on April 30, 2018 - 1:40pm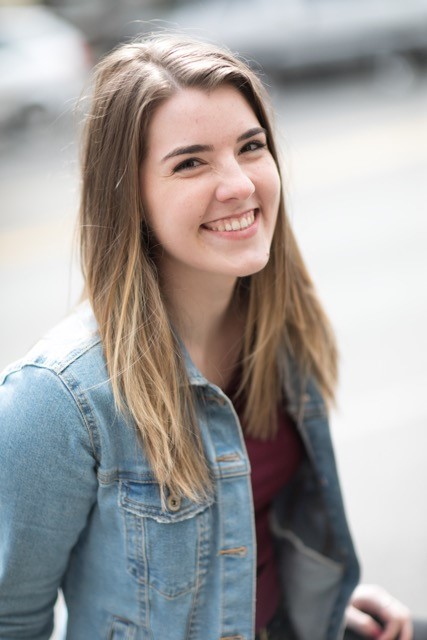 From now until the end of the school year, we will be introducing and celebrating our graduating students, looking back on the work they've done during their time here, and sharing their reflections and wisdom as they head off into the world. Today, we meet graduating Drama major Lindsey Crocker. Hailing from Ashland, Oregon (home of the Oregon Shakespeare Festival!), Lindsey is earning a double major in Drama and Communication. She plans to pursue acting, arts administration, and casting. During her time here, she has served on the School of Drama BA Council, and as the Executive Director of the Undergraduate Theatre Society.
What do you know now that you didn't know when you started here? 
UW taught me how to create my own opportunities, to pursue what I wanted with drive and passion, and to embrace mistakes. I have a deeper sense of why I want to pursue theater, and I also have become better at owning the titles "artist" and "actor" with pride. 
Any plans for after graduation or dreams for the future that you can share?
I am staying in Seattle for at least the next few years. I am working some part-time jobs after graduation and I am auditioning for everything I can! Currently I'm in the interview process for theater internships to gain experience in casting and artistic development. Immediately after graduation I am doing a road trip/camping trip to Colorado, which will fulfill my desperate need to be in sunlight and the outdoors, after all the hours spent in a dark theater.
Do you have a favorite memory from your time here?
There's not one particular moment that stands out. Some of my favorite moments were watching tech for UTS shows in the Cab. Every single time I left feeling immensely inspired by the dedication, creativity and energy that went into our student-run productions.  
What advice do you have to people who might follow in your footsteps? 
Take classes outside the theatre department. Explore as many interests as possible, expanding your scope of knowledge will only ever help. Strive for honesty not politness. Know you are enough. Ask for help when you need it. Self-care. Breathe. 
Why do we need theatre?
It inspires empathy, which the world always needs more of. It requires a certain amount of bravery from both the performer and the spectator, and constantly challenges us to ask more questions. There is also this wonderful paradox of theater requiring blunt honesty while acknowledging that there is no objective truth. Also its fun, so why not?