Submitted by
Holly Arsenault
on June 1, 2018 - 12:25pm
From now until the end of the school year, we will be introducing and celebrating our graduating students, looking back on the work they've done during their time here, and sharing their reflections and wisdom as they head off into the professional world. Today, we meet graduating MFA scenic designer Alex Winterle! You can see some of Alex's work from his time here at UW in the slideshow above.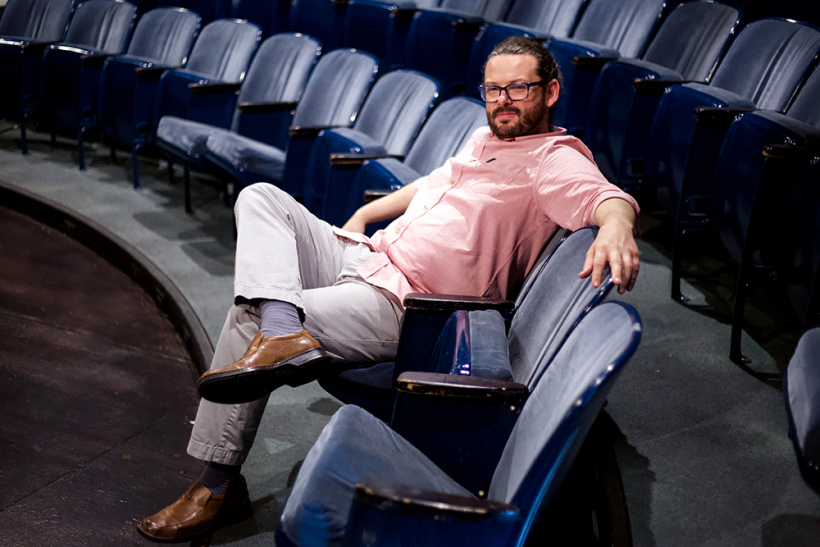 What do you know now that you didn't know when you started this program?
What I know now is that I am capable of so much more than what I thought I was capable when I began.  When I first got here I imagined that by graduation I would somehow become some shining professional other person. In some part, I have! I have had to stretch myself, and by force of will push myself to grow skills that I did not have before. I have become more comfortable (resigned?) to the sleepless nights, uncomfortable situations that arise during production, and all the insanely tight deadlines. I have learned that those various moments of anxiety and stress, are entirely relative, typically of my own making, and will pass, and that I have it within me to deal with them with emotional control, calm, and professionalism.
Now, looking back, there are some parts of the person I was from three years ago that I don't recognize. However, the things that have really allowed me to get along and achieve that growth are the things I have always carried with me. I overcame the hurdles of constant critique and pressure to crystalize and clarify my artistic intentions by coming back each day with a deep desire to probe and to satisfy my theatrical cravings. 
Time and experience, working on productions, and my internship in New York have proved to me that I have all that I need within me to get along and succeed as a set designer. I found that while graduation and an MFA are landmarks, they are only one stop on the journey of becoming a great designer, and that I have a lifetime of learning yet to do. Perhaps the most valuable thing about graduate school was that I found that what I thought of as my great weaknesses are actually some of my outstanding strengths as a designer.
What are you looking forward to being able to do now that you won't be in class or studio or rehearsal 12 hours a day?
I want to reconnect with the outdoorsman side of me. Part of what drew me back to the northwest was a love of hiking, camping, rock climbing, and paddling, but nowadays I can barely walk up the hill to campus from Montlake without doubling over out of breath, because I don't take the time to exercise, much less go out in nature. I also want to get back to my music. I can count on my two hands how many times I have picked up my guitar in the last three years. I am so thankful for the art I have gotten to create here, but a lack of music has created a hole in my heart. I am also looking forward to getting to work in the larger community of Seattle Theatre outside the University, and making connections in theatre all over the country, and the world.
Any plans for after graduation? 
There is a lot still yet to be determined, depending on our upcoming showcases in NY, LA and here in Seattle, but I intend to stick around Seattle, and work here, building my resume for at least next year. After that, we shall see what the future holds.
Do you have a favorite memory from your time here? 
I have a grand collage in my mind of my time here: Impressions of solidarity and bonding with the fellow designers in my year after particularly devastating critiques that left us all a little scarred, but made me feel like I wasn't alone. The beautiful shows, and the thrill of seeing the fruits of my classmates' hard work pay off. The heartfelt and searching conversations, and personal guidance of all my professors. The moments of triumph, and the feeling that I might be the most capable designer that ever lived, followed by an errant line or brush stroke that dropped me into misery and a feeling that I should drop out of school and never show my face inside a theatre ever again. Those thoughts were usually followed by a night's sleep, which would put me back on track.
What advice do you have to people who might follow in your footsteps?
Cultivate your precision of expression. Mean every line and brushstroke you put down. At the same time, cultivate a sense of experimentation, and exploration with your work. Find a course and go for it wholeheartedly, but always stay nimble enough to change directions at the drop of a hat. In short, somehow become a set of walking contradictions.
Also, get to work early, take it easy on yourself, drink liquids other than coffee, and don't forget the rest of the world out there. If you can manage to do those things, drop me a line and tell me how.
---
Our MFA designers are showing their work this weekend at Design Showcase West in Los Angeles, and on Monday, June 11th at the Seattle Design Showcase. If you are a local theatre, film, or event production professional who would an invitation to attend the Seattle Design Showcase, please contact Bobbin Ramsey at aramsey2@uw.edu.