Submitted by
Holly Arsenault
on June 6, 2018 - 12:54pm
From now until the end of the school year, we will be introducing and celebrating our graduating students, looking back on the work they've done during their time here, and sharing their reflections and wisdom as they head off into the world. Today, we meet graduating Drama major Kayleah Lewis, a double major in Drama Performance and Gender, Women, and Sexuality Studies. Hailing from Federal Way, about 30 minutes south of Seattle, Kayleah says, "My family was very low-income, so until I got into UW, I had been in more theatre productions than I had seen." Kayleah's heart lies in acting, but, she says, she hasn't found a part of theatre that she doesn't "love to pieces."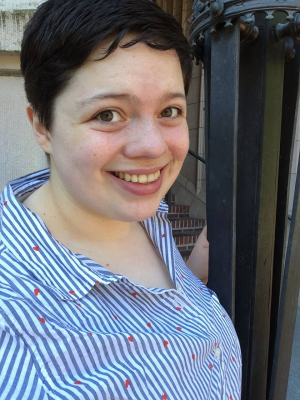 What do you know now that you didn't know when you started here?
It's really, truly okay to not know. My first quarter I was super insecure, coming from a really underdeveloped Drama program and not knowing as many playwrights or major pieces. Through my years, I've come to terms with that because that's the whole point of coming to college: learning! It's okay to not know everything, there are so many people here who want to help build your knowledge and you can often return the favor in other ways.
Also: Self care can be as simple as eating dinner or drinking one sip of water. Just keep yourself alive and you can deal with the rest later.

Any plans for after graduation or dreams for the future that you can share?
Well in the immediate future, I was just offered a job at the 5th Avenue Theatre in their box office part time! I technically have another quarter of school, so I'm excited to work a job that is flexible and exciting while I finish my studies up.
In the farther future I'm really hoping to find a way to mix the feminist work I've learned about and done in GWSS into the theatre world. We've come so far, but there's so much farther we need to and can go. 
Do you have a favorite memory from your time here?
So many choices... I'd say the 2017 Edinburgh trip. Being immersed in new and exciting theatre for a whole month was the most incredible experience. It even helped me encourage myself to step up my game and see more shows around our area!
What advice do you have to people who might follow in your footsteps? 
Eat. Sleep. Drink.
Find your people. They will remind you of your worth, but keep you from getting too cocky. Having good people around you is essential.
You are always worthy of help--with mental illness, homework, relationships, physical problems. You are always worth helping, you just have to seek it.
Why do we need theatre?
It's the most visceral art form. No other form of art has brought me closer to other people in the ways theatre does. It's storytelling at it's purest which creates the most incredible connections.