At the risk of sending out "Back to School" vibes, we at the School of Drama are too excited to hold back and are annoucing our 2016–2017 Season. So...keep enjoying summer, but also look forward to the fall and the start of our next season! Season brochures will be mailed in mid-August. Email katrinae@uw.edu to make sure you're on our mailing list.
FOR IMMEDIATE RELEASE: JUNE 20, 2016
More Info & Tickets: drama.uw.edu 
Contact:  Katrina Ernst, 206-685-0600; katrinae@uw.edu 
Tradition Meets Innovation in University of Washington School of Drama's 2016–2017 Season
Local and National Artists Converge at UW Drama to Provide Contemporary Takes on Worlds from the Past
SEATTLE, WA— The University of Washington School of Drama, under the leadership of Executive Director Todd London, is proud to announce its 2016–2017 Season. As with their 75th anniversary season, the School of Drama will continue to build artistic partnerships with both local and national artists in an effort to provide more diverse learning opportunities for their students and create a laboratory environment within the School. Guest artists involved this season include: Ali el-Gassier, Marya Sea Kaminski, Jane Jones, Ellen McLaughlin, Qui Nguyen, Ken Rus Schmoll, Daniel Talbott, and Anne Washburn.
The season will feature six fully realized productions and four UW Drama Laboratory Projects, many of which share a common theme. "As we were assembling the season, we began to see a pattern emerge," notes Todd London. "Many of these plays represent the work of modern...
Read more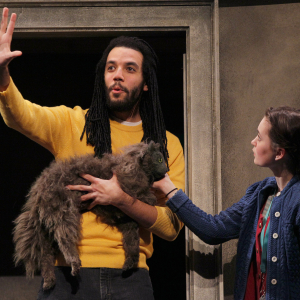 Nina Williams, Aaron Jin, and Denny Le (BAs) were selected for the 2016 cohort of Intiman Theatre's Emerging Artist Program. The six-week program culminates in an open-to-the-public showcase August 5–7.
At Seattle Shakespeare's outdoor season, catch Aaron Cammack (PATP), Porscha Shaw (PATP), and Nathan Wornian (BA) in Love's Labour's Lost.
Rudy Roushdi (PATP '16) is in Pony World Theatre's Suffering, Inc. at 12th Avenue Arts. Brendan Kiley described Rudy's character as played with "gorgeously understated intensity" in The Seattle Times review of the play.
In Off Road Shakespeare's A Midsummer Night's Dream, see Hazel Lozano (PATP). The play is directed by alumna Leah Adcock-Starr (MFA '15).
Tré Cotten (PATP) plays a White House advisor to the ad-men who created the infamous campaign advertisement for Lyndon B. Johnson in ...
Read more