Friday, October 18, 2019 -

2:00pm

to

4:00pm
Price:
Free and open to the public
The Face of God: A Historiographic Fugue on Performance and Flight
The interdisciplinary conversation series Coffee and Concepts is coming back this fall with a talk by School of Drama professor Scott Magelssen. 
Coffee and Concepts is a series of colloquium-style, informal gatherings where scholars from across campus who work in the field of performance (broadly conceived) will be presenting new work and work in progress. Come and share the pleasure to be their first listeners and readers.
---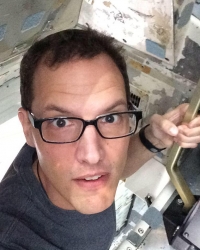 Professor Magelssen's talk The Face of God: 
A Historiographic Fugue on Performance and Flight, is excerpted from his book-length study about the cultural and political significance of aviation and space flight in the United States. Here is what he would like to share with prospective listeners:
"I draw the title of this talk from the last line of pilot-poet John Gillespie Magee, Jr.'s poem "High Flight," which describes the sublime experience of the aviator in divine terms. A rendition of "High Flight" accompanied a short Air Force film (with an F-15 fighter jet conducting aerobatic maneuvers against the backdrop of heavens) that played every morning on network television as I grew up in the 1980s, immediately following the National Anthem that began the broadcast day. For kids of my age, in the late Cold War's most angstful years of doomsday rhetoric, our televisions delivered such performative montages of poetry, patriotism and the jingoistic sublime as a daily ritual of indoctrination of Americanness. Yet the idea that airplanes could be weaponized in September, 2001, as spectacular divine tools to bring down skyscrapers and rewrite the narratives of American history and experience still came as a shock. Taking up Heather Nathan's invitation to compose "fugue histories," this talk seeks to brings together several Deleuzean "lines of flight" into a meditation on the stakes of performing aviation, war, and space travel."
The Coffee and Concepts Series considers research about performance, broadly defined. We look forward to having you at the School of Drama. Coffee and cookies will be provided.
---
All conversations will take place in Hutchinson Hall, room 154, from 2:00 to 4:00 pm. All events are FREE and open to the public.
If you have questions about this series, please contact Stefka Mihaylova, Director of the Center for Performance Studies, at stefkam@uw.edu.