Submitted by
Holly Arsenault
on July 7, 2020 - 4:06pm
By Judith Shahn, Senior Lecturer Emerita
Kristin Linklater, internationally renowned creator of the voice method known as "Freeing the natural voice," died June 5th at age 84 in her home in Orkney, Scotland where she had founded the Linklater Voice Centre.
Her voice method has been an integral part of the actor training at the University of Washington School of Drama for the last 30 years. When I first arrived at the SoD in 1990, I was in the process of becoming a Designated Linklater teacher (DLT). Jack Clay, may he rest in peace knowing how many students he influenced, recognized the Linklater method as seminal in actor training. He hired me as a temporary hire and I continued for 26 years. Some of the tenets of the Linklater work are:
- We don't want to hear your voice, we want to hear YOU, through your voice.
- The voice is not just an instrument, it's a human instrument capable of expressing a three- to four-octave range of whatever gamut of emotion, complexity of mood, and subtlety of thought one experiences.
- The natural voice is transparent. It reveals, not describes, inner impulses of emotion and thought, directly and spontaneously.
I asked some PATP (Professional Actor Training Program—MFA, Acting) alums to put into one sentence what the Linklater voice training meant to them. Here's what they said:
As a constant in my career, Kristin Linklater's work never simply 'Freed my natural voice,' but endowed my mind and body with a sense of unlimited potential in performance." - Joseph Ngo, MFA 2015
"Going deep into the Linklater work gave me a sense of my own voice's capacity and power. It also unlocked emotional blocks and habits, clearing the way for more freedom, expression, and possibility. I have done the warm-up for decades. Once when I was warming up before a show, a much younger actor came up to me and said, 'Can you show me how to do that?' It was so dear. And it shows that the work transcends time and place." - Molly Hall, MFA 2000
"What Linklater work means to me is that power comes through ease and connection." - Maythinee Washington, MFA 2007
"Becoming conscious of the fact that my breath was connected to all of me helped me fully embody the sounds I was capable of making and step more confidently into the power of my voice." - Khatt Taylor, MFA 2008
"The Linklater work, especially with Shakespeare, helps me to reach my students and impact their voices towards growth changing their sound into swords of empathy." - Amanda Zarr, MFA 2008
"Freedom. Transparency. Awakening. Intimacy. Self-Discovery. A gift that has given tremendously and continues to do so." - Lisa Strum, MFA 2000
"When I learned to free my natural voice through the work, I began a work within myself not only the craft." - Tré Cotten, MFA 2017
"'I'm letting go.' Whatever is tense will not resonate and cannot carry, cannot create impact - this is as true in the mind and heart as in the body." - Marianna de Fazio, MFA 2010
"Linklater's work will forever serve as sheet music for the symphony of the natural voice." - Carl Kennedy, MFA 2010
"I'm thinking of how her work has probably changed me more than any other type of training I've received... both as a performer and a human ... Here is the most succinct phrase I can come up with: 'Fear can be dislodged with breath and vibration.'" - Amy Frear, MFA 2011
"I gained greater understanding of the range and power of my voice, and learned how to use it more articulately as an instrument of my own expression." - Adam Noble, MFA 2005
"From the rehearsal room to the delivery room, Kristin's work taught me freedom and release. This work changed me forever. It empowers me every day." - Jenny Mercein, MFA 2003
"The Linklater work taught me that my breath is the language of my soul. When I am in need of courage; when I am need of an anchor to my most deepest truths...I can tap in to give to breath. Give it sound. My voice is my power." - Robyne Walker, MFA 2000
"The method continually teaches me that freeing my voice frees the locked up truths inside me." - Jim Anzide, MFA 1994
"I've carried this work with me throughout my life to connect me to a full powerful resonate open voice that is all mine and to reach others." - Gina Panzeca, MFA 1992
"Linklater's technique is a touchstone that grounds me before every live performance." - Aaron Blakely, MFA 2009, BA 2001
"Whenever I'm feeling off-voice I stop, hang over, tune into my breathing, and begin with the simple yet revelatory 'huh-huh' - connecting sound to breath - the transformation begins almost immediately. As I move through the Linklater progression, eventually making my way to energizing and toning my lazy soft palate, the sound starts to pour forth and I'm beyond grateful to know this work. If I'm not physically connected to my voice I'm not at my full creative power or capacity. The Linklater work is essential." - Marc Kenison, MFA 2004
"The Linklater training I had at the School of Drama connected me to my voice, mind, heart and body in playful, communal, soulful ways that I continue to draw on in my acting, directing and teaching work in Boston 23 years later." - Doug Lockwood, MFA 1997
"Authenticity is everything in my work and life. Linklater's technique has helped free my voice from the obligation of making sound and into the joy of allowing it." - Samantha Rund, MFA 2006
"The Linklater work, for me, is a search for the freedom of self-expression through sound and movement. Huh-huh." - Jason L. Treviño, current MFA acting student (class of 2021)
"The Linklater work--not only in my art but also personally--means absolute freedom. The freedom to use my true voice and let it be heard without fear and/or shame."  - Antonio D. Mitchell, current MFA acting student (class of 2022)
"What Linklater means to me: The freedom to take a generous sigh of relief at any moment - particularly when I find myself 'pushing'." - Alyssa Franks, MFA 2020.
"In my training at UW, Bridget Connors steeped myself and my colleagues in the beautiful words, images, and exercises created and developed by Kristin Linklater. This is how I know that Linklater lives on through the many vessels of brilliant voice teachers that teach students everywhere how to free their natural voices. 'To free the voice is to free the person.' May Kristin continue to breathe through each of us whom she has touched. I send her a sigh of relief filled with gratitude, respect and a deep appreciation for her lasting contribution to voice work. Hu Hummmm Muh!!" - Hailey Henderson, MFA 2020
Kristin's path as a voice teacher began in London in the 1950s with the legendary Iris Warren, whose interest in the voice as an expression of the whole person began to revolutionize British theatre. Her protégé for seven years, Kristin followed Iris at LAMDA (the London Academy of Music and Dramatic Art), until she made a brave decision to move to New York in 1963 to open her own voice studio. She arrived right in the middle of profound changes and protests in American life as well as a growth spurt in American theatre. Joining the faculty of NYU School of Theatre, with Peter Kass as head, she delved into what was considered new and daring in actor training at the time: Truth with a capital T. When I first worked with Kristin, I understood that inner truth could be extraverted, must be heard through the voice.
Kristin found herself suddenly and unexpectedly in demand and began coaching for the Negro Ensemble Company, Joe Chaikin's The Open Theatre, and the newly formed Lincoln Center Repertory Company, among others. While new kinds of theatre were emerging in New York City, regional theatres were cropping up around the continent: The Guthrie, The Arena Stage, and The Stratford Shakespeare Festival in Canada. Actor training at the time often sacrificed vocal training for psychological truth and therefore people could not be heard in those big theatre spaces. Enter Kristin Linklater. She received grants from the Ford Foundation, Rockefeller Foundation, the NEA as well as a Guggenheim fellowship to train teachers to answer the growing need for voice in theatre schools and to act as vocal coach in the newly expanding American theatre. Ah, the days of foundations that supported the arts!
Kristin's training of teachers has continued since the 1960s and was in mid-process when she suddenly died a few weeks ago. David Morden, a member of the UW School of Drama MFA class of 1993, was in the 2019 group, the last that Linklater designated. He has this to say:
"When I began a serious study of the human voice in graduate school, I started to connect my voice to my thoughts and intentions. Through three years of study, I owned my voice as an instrument of dramatic impact. Twenty years later, when I began teaching voice, it became about the technical and physiological aspects of voice, but I also learned how to connect my voice to impulse. Five years after that, it was in the studio with Kristin (surrounded by the fantastic Orkney landscape) that I finally got that 'Freeing the natural voice' was just that – figuring out what I had to say and allowing my breath and my vibration to express my true self, directly and without ornamentation. Kristin helped me to know myself and to share my voice with the world by starting with the room I am in."
In 1976, Kristin wrote her book, Freeing the Natural Voice, which has been translated into many languages and is used as one of the essential texts in actor training around the world. At the same time, she gave birth to her son Hamish, now a regular mainstay in theatre, film, and television in the US. Two years earlier, Kristin met Tina Packer, an actor with the Royal Shakespeare Company who came to the United States to investigate creating a new Shakespeare company where language would come through the body, voice, intellect, and emotions–the quartet. They founded Shakespeare & Company in the Berkshires, MA which still exists to this day. Kristin stayed there for 15 years, coaching productions, directing and training actors in their month-long intensives.
It was around this time that I first encountered Kristin. I was hired to teach the Linklater work at Cornish College of the Arts. Other than a semester at Carnegie-Mellon, my alma mater, where I worked with David Smuckler, I was not trained for this task. I wrote to Kristin asking how I could get training and just at that time, I heard she was coming to the Seattle area to do a weekend workshop. It was on voice and imagery in Shakespeare's language. This workshop was a lightbulb moment for me. I'm sure you have had those. The lightbulb was not only in my brain (like the cartoons depict), but it was as if electricity went through my whole being. I felt I was home and I understood what my mission would be in life! I asked her how I could get training and she replied, "Come to Shakespeare & Company." I followed this advice and began the path to becoming a Designated Linklater teacher or "DLT." Kristin was writing her second book, Freeing Shakespeare's Voice and using our designation group to practice new exercises.. We are honored to be acknowledged in the preface of the book.
Becoming a Linklater teacher is a multi-pronged approach. You must have 50 individual hours with a master teacher to work on your own voice so that you are embodying what you teach others. Then you must observe a senior teacher or teachers and watch them lead the progression (or sequence) of exercises. Next is practice teaching and then finally six weeks of "boot camp" teacher training with Kristin, herself. This training is undertaken by people at various stages of their careers and is somehow juggled between working full time, parenthood and life. Each person figures it out for themselves. I became a DLT in 1991. Kristin, along with master teacher Andrea Haring, has trained over 250 teachers in 23 countries. I was honored to join their ranks.
When Kristin left Shakespeare & Co., her next chapter was teaching undergraduates at Emerson College in Boston. She learned a lot from being in the room with newly independent youth. She formed the Company of Women in collaboration with Carol Gilligan, where the format of River Stories was born. These moments in the river of one's life were spoken in order to empower women and girls in finding and owning their own voices. Then she left for Columbia University's graduate actor training program where she remained for 16 years.
Through the years, I stayed in contact with Kristin, following and assisting her in conferences for VASTA (Voice and Speech Trainer's Association) and her own teacher development trainings. Kristin was always discovering new things. The work was never static. We were always delighted to discover the latest explorations (neuroscience, gravity, poetry) and new exercises which I hungrily brought back to the students in the PATP.
When Kristin decided to retire from Columbia University in 2013, she had been in the United States for exactly 50 years and had already purchased a home on the remote and starkly beautiful Orkney Islands in Scotland, her childhood home, where she was raised by her mother, Marjorie Linklater, and her father, well-known author Eric Linklater.. Her vision was to create an international voice center on her property where people could come as a retreat and work on their voices and imaginations. I remember the party where she rolled out the blueprints for the Centre and I said, "Kristin – who is going to come all the way to Orkney?" Build it and they will come. They did come. For the last six years, the Linklater Voice Centre had been a success. With a beautiful studio, dormitory, and common space for 12, the Centre has taught classes in voice, Shakespeare, sound and movement, River Stories, improvisation, movement, and more to people from over 35 countries around the world.
Judith Shahn with Kristin Linklater in Orkney, 2019
I first went to Orkney the year of my retirement from the School of Drama, 2016. As David Morden briefly described, the landscape itself with the sea, the horizon, the sky and farmland allowed me to internalize the outside space and feel space inside me. It is peaceful one moment and tempestuously windy, the next.  When Kristin asked me to come and assist her because she knew she needed and wanted to pass the teaching at the Centre to her teachers, I was honored and thrilled. As a mentor, Kristin could be formidable. She was  honest, direct, compassionate and demanding. I went back to Orkney two more times to assist her. I would have been there this year, but for COVID. When Kristin introduced me as her co-teacher, something inside me dropped. It was almost that same feeling of when I first met her. I knew I was home again.
When I retired, it was so important to me that the school hire another Linklater teacher. I wanted her legacy to continue and the School of Drama was very lucky to hire Bridget Connors to continue the training in her own right, bringing her own rich background. Words from Bridget:
"I consider myself blessed to carry on Kristin's work with the wonderful students in the School of Drama. First in the floors and rafters of Hutchinson Hall and now on Zoom. Kristin was, and will remain, an indelible force and source of inspiration for me. Undoubtedly her vibrations will continue to move through us and out into the world as she listens with her mind's eye and ear in her belly to our collective huh-hummmmuh's! And so, the journey continues....Thank you Kristin" - Bridget Connors, DLT 2003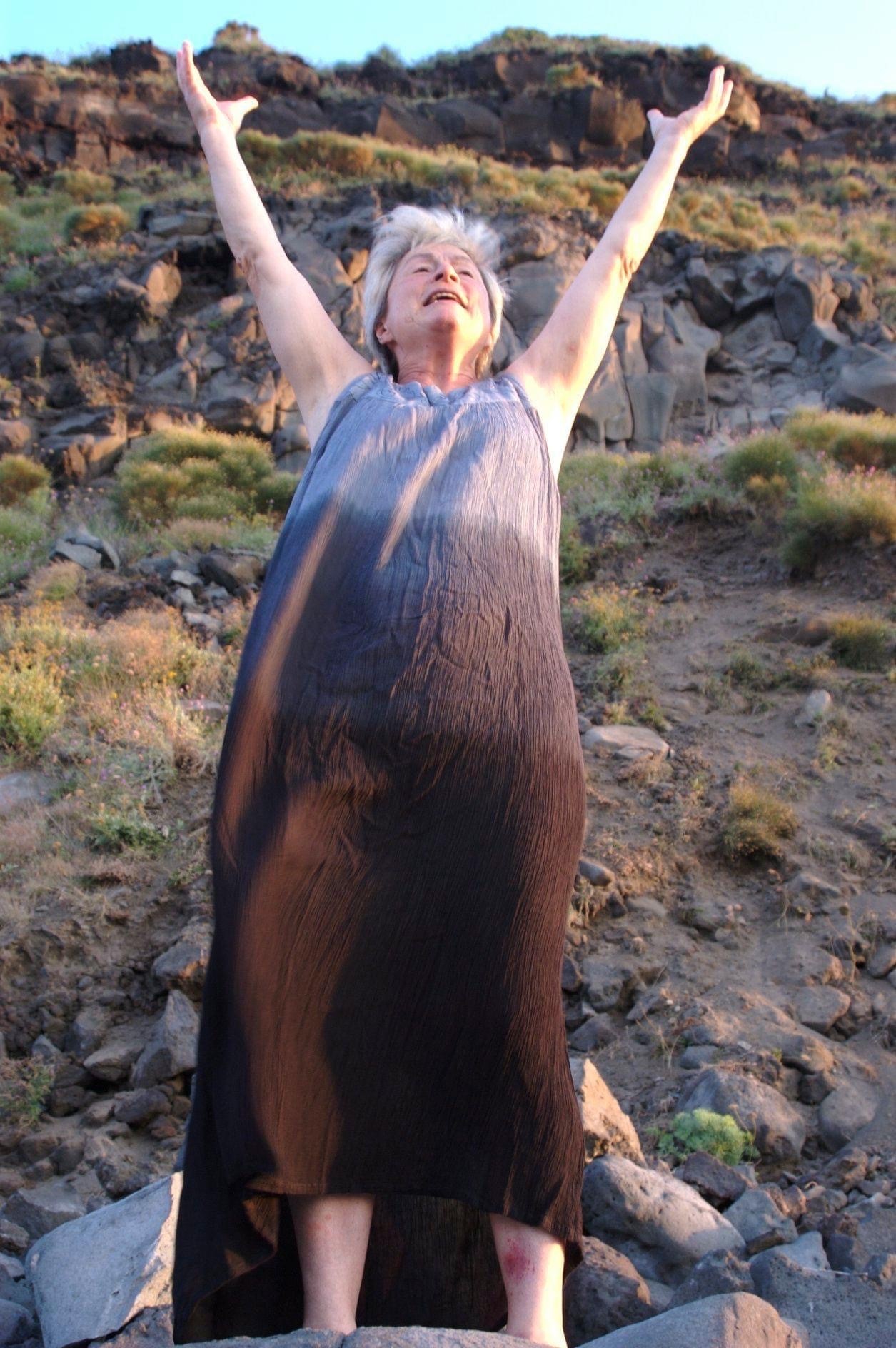 Kristin Linklater on Orkney Island, Scotland