Sunday, November 25, 2018 - 7:30pm

to

Sunday, December 9, 2018 - 2:00pm
Performance Showtimes:
Sun, Nov 25, 2018 - 7:30pm
Tue, Nov 27, 2018 - 7:30pm
Wed, Nov 28, 2018 - 7:30pm
Thu, Nov 29, 2018 - 7:30pm
Fri, Nov 30, 2018 - 7:30pm
Sat, Dec 1, 2018 - 7:30pm
Sun, Dec 2, 2018 - 2:00pm
Wed, Dec 5, 2018 - 7:30pm
Thu, Dec 6, 2018 - 7:30pm
Fri, Dec 7, 2018 - 7:30pm
Sat, Dec 8, 2018 - 7:30pm
Sun, Dec 9, 2018 - 2:00pm
"You see, that which is exposed to the exterior is smooth and dry and clean. That which is not...underneath, is slimy and filled with fungus and crawling with worms. It is another life that is parallel to the one we manifest. It's there. The way worms are underneath the stone. If you don't recognize it...(whispering) it eats you. That is my opinion. Well, who is ready for lunch?"
Fefu and Her Friends
Written by María Irene Fornés
Directed by Valerie Curtis-Newton, UW Drama faculty, Head of Directing
November 28 – December 9, 2018
Meany Studio, University of Washington Seattle
Previews: November 25th & 27th at 7:30 PM
Opening Night: Wednesday, November 28th at 7:30 PM
Post-show panel: Sunday, December 2nd following the 2:00 PM matinee performance
Pay-What-You-Can: Wednesday, December 5th at 7:30 PM (day-of-show only, $1 minimum)
Professor Valerie Curtis-Newton directs an all-female cast in María Irene Fornés' Fefu and Her Friends. Fornés, the winner of nine Obie Awards, including the award for sustained achievement, has been called "the most important American playwright you've never heard of," and "influential beyond measure." She is considered by many to be the mother of U.S. Latinx Theatre. Playwright Paula Vogel said, "In the work of every American playwright at the end of the 20th century, there are only two stages: before she has read María Irene Fornés ­and after."
Fornés passed away Wednesday, October 31st at the age of 88. This iconoclast, beloved teacher and mentor to some of contemporary theatre's most exciting writers, is the subject of the new documentary The Rest I Make Up, and this year marks a national celebration of her work. 
Fefu and Her Friends, Fornés' most celebrated work, turns the "ladies who lunch" trope on its head, bringing together an extraordinary—and regular—group of women who, over the course of a weekend in the country, peel away at each other's layers, uncovering both the horrors and felicities of contemporary womanhood. 
This event is part of Celebrando Fornés/Celebrating Fornés, a year-long effort to raise awareness of Fornés' legacy and her impact on American theater.
RUN TIME: 85 minutes, no intermission. There is no late seating.
CONTENT: This show contains gunshots
PLEASE NOTE: The original version of Fefu and Her Friends used an alternative staging style in which the audience moved from space to space over the course of the play. This version of the play uses a conventional staging style. The audience will be seated in the same seats throughout. 
---
Information for patrons with limited mobility, hearing, and/or vision:
The Meany Studio is wheelchair accessible and can accommodate a limited number of wheelchairs. The only entrance to Meany Studio that does not require stairs is through the Central Parking Garage, Level C1. Wheelchair patrons who are driving should park in the accessible spots on that level. If you are not driving, here is how to get to that entrance:
- Enter Kane Hall (the large, cement building across Red Square from Meany Hall)
- Take the elevator to level C1
- Pass through the parking garage to access the Meany Studio
Here is a map: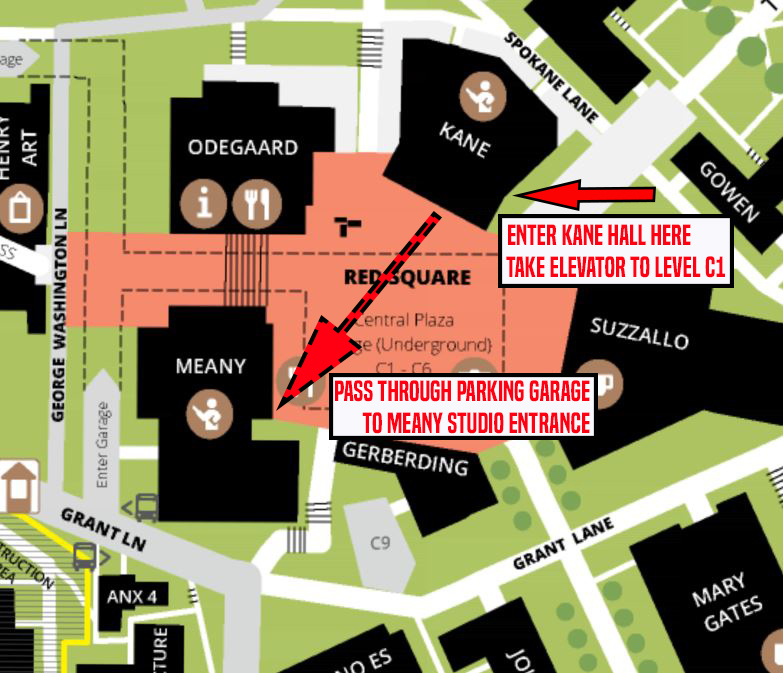 We also hold the entire center section of the front row of the theatre for patrons with limited mobility, hearing, and/or vision. Assistive listening devices are also available upon request. Please check in with an usher or house manager if you would like a listening device.
Although our seating is festival style (unassigned) we are always happy to reserve individual seats in advance for patrons who require seating accommodation. Please call the ArtsUW Ticket Office at 206-543-4880 or email ticket@uw.edu to make any accommodation request.

Artists
Cast:
| | |
| --- | --- |
| Fefu | Alyssa Franks (2nd year PATP) |
| Cindy | Jessica Thorne (2nd year PATP) |
| Christine | Tricia Castañeda-Gonzales (3rd year PATP) |
| Emma | Alana Cheshire (3rd year PATP) |
| Julia | Allyson Brown (3rd year PATP) |
| Paula | Hailey Henderson (2nd year PATP) |
| Sue | Anais Gralpois (Undergraduate Drama major) |
| Cecilia | Annie Willis (Undergrdaute Drama major) |
Creative Team:
| | |
| --- | --- |
| Set Designer | Wenzheng Zhang (3rd year MFA designer) |
| Costume Designer | Luna McMeen (Undergraduate Drama major) |
| Lighting Designer | Chun Yen Huang (2nd year MFA designer) |
| Assistant Director | Kristie Post Wallace (1st year MFA director) |